It's really important to know when and how to market a roofing business in a local market. More specifically, how to market a roofing business on the internet for a local area. More than 90% of people who need a roofing service will resort to using the internet to find the company they will choose. Having a local roofing lead strategy is critical to consistent growth for any roofing business regardless of how old they may be.
If you are new in business, they have to find you and feel comfortable with who you are. If you have been in business for a long time, a referral is just as good as your reviews and online reputation when a potential client decides to check up on you before calling.
There are three key pillars to a local roofing lead strategy in today's market. Social visibility and reputation (reviews), strong SEO in your local market (Search Engine Optimization), and a comprehensive ad strategy that will cover you for all the things the first two items will not.
As you know, there are hundreds of different keywords and searches that take place in a local area for roofers, and you can't rely on 5-10 to get the job done.
Social Visibility and Reputation
The concept of social visibility is a blend of social media publications and solid online reviews. It's critical to develop both parts because today's consumers care about what you are doing in the local area, what people are saying, and if you are a reputable company. Having both parts is critical. To be clear, Snapchat, Tik-Tok, and WhatsApp aren't going to be setting the world on fire for a roofer. It's the basics of Instagram, Facebook, and things like Google Reviews. Once these pieces come together people tend to feel comfortable with who you are, and how you will treat them in person. Regular posting and steady reviews will go a long way!!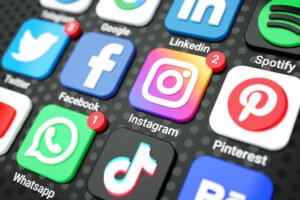 Search engine optimization
SEO is the long-term play for a roofing company that wants to be around for a while. This is the organic, hard work, and ranking of putting you and your company in the lower part of a Google or Bing result that isn't paid for with ads. It's organic and naturally ranked thereby your website, reputation, and content leading Google to rank you as the most relevant and deserving site in your area for that particular keyword. Probably much like the way you found this article. Natural results and good information will earn you these Page One Placements. This is something that takes months and sometimes years to do properly, but with every click being Free when it's on the first page, it's well worth the wait!
Google will determine who goes here by your site speed, architecture, content, articles, image tagging, and overall age to name a few factors. It's a black box, meaning Google won't tell exactly how it works, but there are companies that specialize in this exact thing. Ours is one of them.
Ad strategy
Last but not least, online ads can be a make-or-break practice in your roofing business. These ads can be placed on any device and related to any keyword you want to show up for, or even behaviors like people who went to your website, Facebook Page, or even came near your office. These ads work because they show up for hundreds of searches a day and can drive very specific outcomes when it relates to specific jobs, and areas you want to do work. We love this stuff with a passion. Our team has run millions of dollars in Google ad spend for our clients. This can be active within 2-3 days, so the wait for SEO is not as painful.
There is also a concept called retargeting which can be from people you spoke to, who visited your website, and other online behaviors. The action following something like a look at your website can trigger an ad to show to those people consistently, so they don't forget about you!
Wrap up
That's the quick version of the three ways to ensure you are covered in the local roofing lead strategy. If you can put the above items together at the same time, you will be getting as many calls and jobs as anyone in your market. As people rely on online resources for local service providers, having a solid online presence is critical.
If your roofing company needs some help with a solid marketing strategy that is actually proven to work in literally any market, please give us a call (984) 789-4464 or Set Up a Free Strategy Session. Our team will walk you through how we work with other roofers, and how the services we provide work, time after time.
Thanks for reading!